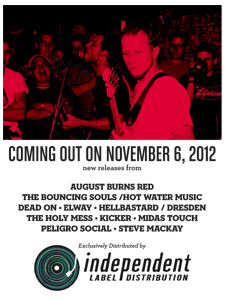 The November new release book is now out. You can download it right here.
We have a bunch of great new releases (as well as some stuff that has been out of print for awhile and is now available again) from…
August Burns Red
The Bouncing Souls/Hot Water Music
Dead On
Elway
Hellbastard/Dresden
The Holy Mess
Kicker
Midas Touch
Peligro Social
Steve Mackay
The August 2012 new releases have started to ship today!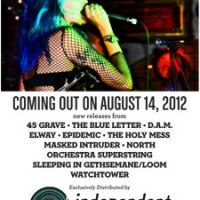 The August new release book is now up and ready for download.
We have a bunch of excellent releases by….
45 GRAVE-Pick Your Poison LP and CD
THE BLUE LETTER-Love Is Not Control Cd and 2xLP
D.A.M.-Inside Out CD
D.A.M.-Human Wreckage CD
ELWAY-Hence My Optimism 7″
EPIDEMIC-Pandemic:The Demo Anthology CD
THE HOLY MESS-Cande Ru Las Degas CD
MASKED INTRUDER-Masked Intruder CD
NORTH-The Great Silence CD
ORCHESTRA SUPERSTRING-Kalopia LP
SLEEPING IN GETHSEMANE/LOOM–split
WAR//PLAGUE-On a Darker Dawn LP
WATCHTOWER-Control and Resistance CD