Posted on June 26th, 2015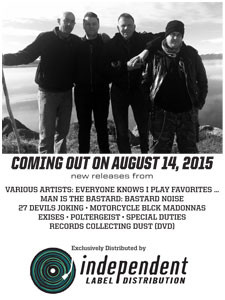 The August 2015 new release book is out and can be downloaded here. Ship date is July 28th. Street date is August 14th.
Below is a list of this months current releases! Make sure to get your pre-orders in and let us know if you have any questions!
| | | | | | |
| --- | --- | --- | --- | --- | --- |
| LABEL | SKU | FORMAT | ARTIST | TITLE | UPC |
| Chunksaah | CAR063-1 | LP | VARIOUS ARTISTS | Everyone Knows I Play Favorites Vol. 2: All of My Friends Are Total Dreamboats (Live) | 809796006315 |
| Deep Six | DSR 211-1 | LP | MAN IS THE BASTARD: BASTARD NOISE | THE LOST M.I.T.B. SESSIONS | 685306021111 |
| Dionysus | ID123316-1 | LP | 27 DEVILS JOKING | Smells Like Fun | 053477331610 |
| Dionysus | ID1233169-1 | LP | MOTORCYCLE BLACK MADONNAS | These Days | 053477316914 |
| Divebomb | DIVE081-2 | CD | POLTERGEIST | Nothing Lasts Forever (Deluxe Edition) | 711576008122 |
| Divebomb | DIVE082-2 | CD | EXISES | Exises | 711576008221 |
| Jailhouse | JHR060-1 | LP | SPECIAL DUTIES | 77 One More Time, Volume II | 703610768055 |
| Riot House | RHP-001 | DVD | RECORDS COLLECTING DUST | (Documentary) | 845015100198 |