Posted on February 3rd, 2015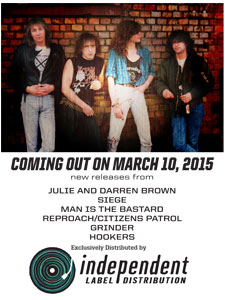 The March 2015 new release book is out and can be downloaded here. Ship date is February 24th. Street date is March 10th.
Below is a list of this months current releases! Make sure to get your pre-orders in and let us know if you have any questions!
| | | | | | |
| --- | --- | --- | --- | --- | --- |
| LABEL | SKU | FORMAT | ARTIST | TITLE | UPC |
| After Music | AMR035-2 | CD | JULIE AND DARREN BROWN | The Dark Comedy | 103019600350 |
| Deep Six | DSR055-1 | LP | SIEGE | Siege | 685306005517 |
| Deep Six | DSR167-1 | 10″ LP | MAN IS THE BASTARD | Our Earth's Blood/A Call for Consciousness | 685306016711 |
| Deep Six | DSR217-7 | 7″ | REPROACH/CITIZEN'S PATROL | Split | 685306021777 |
| Divebomb | DIVE076-2 | CD | GRINDER | Down for the Living (Deluxe) | 711576007620 |
| Patac | PATAC032-1 | LP | HOOKERS | It's Midnight…The Witching Hour! | 641378758300 |