The August 2012 new releases have started to ship today!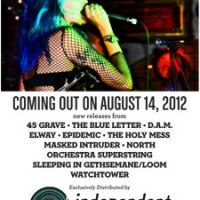 The August new release book is now up and ready for download.
We have a bunch of excellent releases by….
45 GRAVE-Pick Your Poison LP and CD
THE BLUE LETTER-Love Is Not Control Cd and 2xLP
D.A.M.-Inside Out CD
D.A.M.-Human Wreckage CD
ELWAY-Hence My Optimism 7″
EPIDEMIC-Pandemic:The Demo Anthology CD
THE HOLY MESS-Cande Ru Las Degas CD
MASKED INTRUDER-Masked Intruder CD
NORTH-The Great Silence CD
ORCHESTRA SUPERSTRING-Kalopia LP
SLEEPING IN GETHSEMANE/LOOM–split
WAR//PLAGUE-On a Darker Dawn LP
WATCHTOWER-Control and Resistance CD
The Adolescents will be playing some upcoming shows. Joining them on some dates are X, Social Distortion and The Youth Brigade!