Posted on August 16th, 2017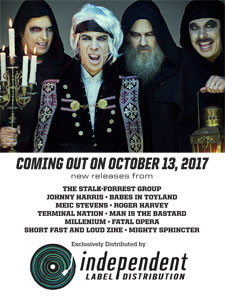 The October 2017 new release book is out and can be downloaded here. Ship date is September 26th. Street date is October 13th.
Below is the list of the new releases! Make sure to get your pre-orders in right away. Let us know if you have any questions!
| | | | | | |
| --- | --- | --- | --- | --- | --- |
| LABEL | SKU | FORMAT | ARTIST | TITLE | UPC |
| Blank | BRC024-1 | LP | THE STALK-FORREST GROUP | The Stalk-Forrest Group | 221076002419 |
| Blank | BRC025-1 | LP | JOHNNY HARRIS | Movements | 221076002518 |
| Blank | BRC026-1 | LP | BABES IN TOYLAND | Spanking Machine | 221076002617 |
| Blank | BRC027-1 | LP | MEIC STEVENS | Outlander | 221076002716 |
| Chunksaah | CAR067-1 | LP | ROGER HARVEY | Two Coyotes | 809796006711 |
| Chunksaah | CAR067-2 | CD | ROGER HARVEY | Two Coyotes | 809796006728 |
| Deep Six | DSR263-7 | 7″ | TERMINAL NATION | Absolute Control | 685306026376 |
| Deep Six | DSR152-1 | LP | MAN IS THE BASTARD | Live on KSPC 88.7 FM 1992" | 685306015219 |
| Divebomb | DIVE151-2 | CD | MILLENIUM | Hourglass: The Complete Sessions | 711576015120 |
| Divebomb | DIVE152-2 | CD | FATAL OPERA | Fatal Opera | 711576015229 |
| Divebomb | DIVE153-2 | 2xCD | FATAL OPERA | The Eleventh Hour | 711576015328 |
| Six Weeks | 30 | zine | SHORT FAST AND LOUD | Short Fast & Loud #30 | 790168003066 |
| Slope | SLOPE33-2 | CD | MIGHTY SPHINCTER | Darkest Angel | 855806006387 |