Posted on November 13th, 2015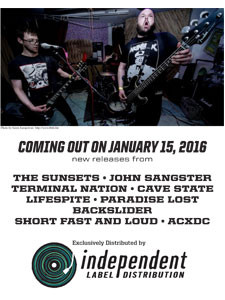 The January 2016 new release book is out and can be downloaded here. Ship date is December 15th. Street date is January 15th.
Below is the list of the new releases! Make sure to get your pre-orders in right away. Let us know if you have any questions!
| | | | | | |
| --- | --- | --- | --- | --- | --- |
| LABEL | SKU | FORMAT | ARTIST | TITLE | UPC |
| Blank Recording Company | BRC008-1 | LP | THE SUNSETS | The Hot Generation Soundtrack Sessions | 613505210029 |
| Blank Recording Company | BRC013-1 | LP | JOHN SANGSTER | The Trip | 613505220028 |
| Blank Recording Company | BRC014-1 | LP | JOHN SANGSTER | The Joker Is Wild | 613505230027 |
| Deep Six Records | DSR240-7 | 7˝EP | TERMINAL NATION | WASTE | 685306024075 |
| Deep Six Records | DSR242-7 | 7˝EP | CAVE STATE | Manferior | 685306024273 |
| Deep Six Records | DSR243-7 | 7˝EP | LIFESPITE | Lifespite | 685306024372 |
| Divebomb Records | DIVE101-2 | 2xCD | PARADISE LOST | Paradise Lost (Deluxe Edition) | 711576010125 |
| Six Weeks Records | SW131-2 | LP | BACKSLIDER | Motherfucker | 790168013119 |
| Six Weeks Records | SW130-7 | MAG & 7"EP | SHORT FAST AND LOUD | #29 | 790168013072 |
| To Live A Lie Records | TLAL110-7 | 7" Flexi | ACXDC | Postcard Flexi | 616983335550 |