Posted on July 30th, 2015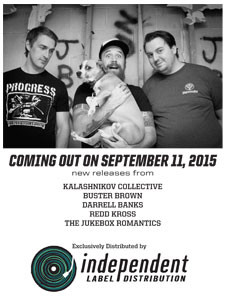 The September 2015 new release book is out and can be downloaded here. Ship date is August 25th. Street date is September 11th.
Below is a list of this months current releases! Make sure to get your pre-orders in and let us know if you have any questions!
| | | | | | |
| --- | --- | --- | --- | --- | --- |
| LABEL | SKU | FORMAT | ARTIST | TITLE | UPC |
| Aborted Society | ABSOC033-1 | LP | KALASHNIKOV COLLECTIVE | L'Algebra Morente Del Cielo | 096012503318 |
| Blank Recording Company | BRC006-1 | LP | BUSTER BROWN | Something To Say | 613505140029 |
| Blank Recording Company | BRC 009-1 | LP | DARRELL BANKS | Darrell Banks Is Here! | 613505160027 |
| Blank Recording Company | BRC012-1 | LP | REDD KROSS | Third Eye | 613505150028 |
| Jailhouse | JHR061-1 | LP | THE JUKEBOX ROMANTICS | Transmissions Down | 703610768062 |