Posted on July 30th, 2014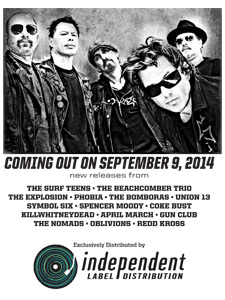 The September 2014 new release book is out and can be downloaded here. Ship date is August 26th. Street date is September 9th.
Below is a list of this months current releases!Make sure to get your pre-orders in and let us know if you have any questions!
| | | | | | | |
| --- | --- | --- | --- | --- | --- | --- |
| LABEL | SKU | FORMAT | ARTIST | TITLE | UPC | MSRP |
| Bacchus Archives | BA1127-1 | LP | THE SURF TEENS | Surf Mania | 053477112714 | $15.98 |
| Bacchus Archives | BA11109-1 | LP | THE BEACHCOMBER TRIO | Live from the Kakiki 1965 | 053477110918 | $18.98 |
| Chunksaah | CAR051-1 | LP | THE EXPLOSION | Bury Me Standing | 809796005110 | $13.98 |
| Deep Six | DSR215-7 | 7″EP | PHOBIA | Grindcore | 685306021579 | $6.98 |
| Dionysus | ID123329-1 | LP | THE BOMBORAS | Savage Island | 053477332914 | $15.98 |
| Hella Mad | HMR019-2 | CDEP | UNION 13 | Ten Years of Silence | 879199001927 | $4.98 |
| Jailhouse | JHR049-2 | CDEP | SYMBOL SIX | Dirtyland | 760921746639 | $8.98 |
| Riot House | RHR-012-7 | 7″ | SPENCER MOODY | Single Car Accident/Polish Handgun | 845015101270 | $9.98 |
| Six Weeks | SW-117-1 | LP | COKE BUST | Lines in the Sand | 790168644917 | $14.98 |
| Sympathy for the Record Industry | SFTRI 456-1 | LP | APRIL MARCH | Paris in April | 790168299766 | $24.98 |
| Sympathy for the Record Industry | SFTRI741-1 | LP | GUN CLUB | Death Party | 790276074118 | $19.98 |
| Sympathy for the Record Industry | SFTRI742-1 | LP | GUN CLUB | Las Vegas Story | 790276074217 | $19.98 |
| Sympathy for the Record Industry | SFTRI 740-1 | LP | GUN CLUB | Miami | 790276074019 | $19.98 |
| Sympathy for the Record Industry | SFTRI333-2 | 2XCD | NOMADS | Showdown 1981-1993 | 790276070523 | $19.98 |
| Sympathy for the Record Industry | SFTRI304-1 | 10″EP | OBLIVIANS | Never Enough | 790276030411 | $14.98 |
| Sympathy for the Record Industry | SFTRI719-1 | LP | OBLIVIANS | Rock n Roll Holiday | 790276071919 | $19.98 |
| Sympathy for the Record Industry | SFTRI 383-1 | 10″EP | OBLIVIANS | Six of the Best | 790276038318 | $14.98 |
| Sympathy for the Record Industry | SFTRI709-1 | LP | REDD KROSS | Neurotica | 790276070912 | $19.98 |
| To Live a Lie | TLAL97-1 | Pic Disc LP | ACxDC | Discography 03-13 | 616983335918 | $15.98 |
| To Live a Lie | TLAL102-1 | LP | CHEST PAIN | Weltschmerz | 616983335314 | $13.98 |
| Tribunal | TRB115-1 | LP | KILLWHITNEYDEAD | Suffer My Wrath | 711578011519 | $19.98 |