Posted on February 19th, 2015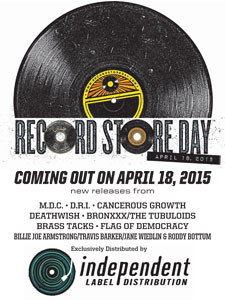 The Record Store Day 2015 new release book is out and can be downloaded here. It has all the info , pressing quantities and other special info.Please make sure to get your order in right away. These titles will sell out really fast.
All of these titles are official Record Store Day titles.
This years RSD brings us alot of fantastic titles by M.D.C. , D.R.I. , CANCEROUS GROWTH, DEATHWISH , BRONXXX/THE TUBULOIDS,
BRASS TACKS, FLAG OF DEMOCRACY, BILLIE JOE ARMSTRONG/TRAVIS BARKER/JANE WIEDLIN & RODDY BOTTUM.
Below is a list of this years RSD releases! Make sure to get your pre-orders in and let us know if you have any questions!
| | | | | | |
| --- | --- | --- | --- | --- | --- |
| LABEL | SKU | FORMAT | ARTIST | TITLE | UPC |
| Beer City | BCR178-1 | LP | M.D.C. | Smoke Signals | 650557017817 |
| Beer City | BCR187-1 | LP | D.R.I. | Live at CBGB's 1984 | 650557018715 |
| Beer City | BCR188-1 | LP | CANCEROUS GROWTH | Late For the Grave | 650557018814 |
| Beer City | BCR189-1 | LP | DEATHWISH | Out For Blood | 650557018913 |
| Beer City | BCR190-1 | LP | M.D.C. | Live at CBGB's 1983 | 650557019019 |
| Beer City | BCR191-7 | 7″ | M.D.C./THE STAINS | John Wayne Was a Nazi | 650557019170 |
| Beer City | BCR197-1 | LP | BRONXXX/THE TUBULOIDS | An International Skaterock | 650557019712 |
| Beer City | BCR199-1 | LP | BRASS TACKS | Just the Facts; 15th Anniversary Edition | 650557019910 |
| Frontier | FRT111-7 | 7″ pic disc | VARIOUS ARTISTS | Live Freaky! Die Freaky! | 018660011175 |
| SRA | SRA030-7 | 7″ | FLAG OF DEMOCRACY | Love Songs | 061979003072 |
| SRA | SRA031-1 | LP | FLAG OF DEMOCRACY | Down With People | 061979003119 |
| SRA | SRA031-2 | CD | FLAG OF DEMOCRACY | Down With People | 061979003126 |
| SRA | SRA032-1 | LP | FLAG OF DEMOCRACY | Hate Rock | 061979003218 |
| SRA | SRA032-2 | CD | FLAG OF DEMOCRACY | Hate Rock | 061979003225 |
| SRA | SRA033-1 | LP | FLAG OF DEMOCRACY | Everything Sucks | 061979003317 |