Posted on March 1st, 2017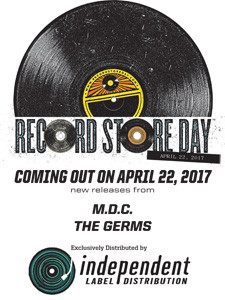 The Record Store Day 2017 release book is out and can be downloaded here. Ship date is March 28th. Record Store Day is April 22nd.
All of these release are official Record Store Day releases and on 'the official Record Store Day list'.
You must be a brick and mortar store in order to order these titles.
Below is the list! Make sure to get your pre-orders in right away. Once we are sold out that is it. Let us know if you have any questions!
| | | | | | | |
| --- | --- | --- | --- | --- | --- | --- |
| LABEL | SKU | FORMAT | ARTIST | TITLE | UPC | MSRP |
| Beer City | BCR184-1 | LP | M.D.C. | Magnus Dominus Corpus | 650557018418 | $19.98 |
| Blank Recording Company | BRC023-7 | 7″ single | The Germs | Lexicon Devil | 221076002372 | $14.98 |