Posted on October 31st, 2022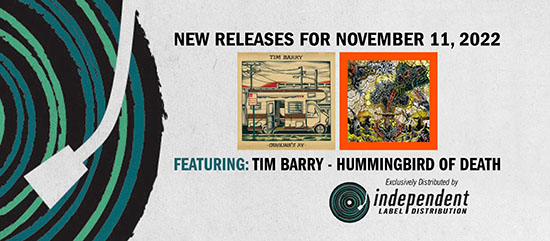 The November 2022 new release book is out and can be downloaded here. Street date is November 11th.
This month Chunksaah brings us a brand new limited edition 7″ by everyones favorite hobo core folk singer Tim Barry. Then To Live A Lie brings us a CD filled with 24 tracks by the hardcore/punk unit known and loved by all as Hummingbird of Death!
Here is a link to download the covers for this months new releases.
Below is the list of the new release(s)! Make sure to get your orders in right away. Let us know if you have any questions!
| | | | | | |
| --- | --- | --- | --- | --- | --- |
| LABEL | SKU | FORMAT | ARTIST | TITLE | UPC |
| Chunksaah | CAR073-7 | 7″ | TIM BARRY | Carolina's RV | 809796007312 |
| To Live A Lie | TLAL137-2 | CD | HUMMINGBIRD OF DEATH | Forbidden Techniques | 331983013726 |