Posted on October 1st, 2018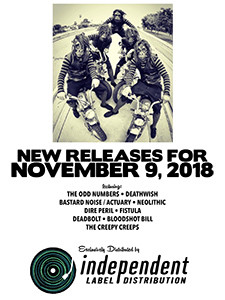 The November 2018 new release book is out and can be downloaded here. Ship date is October 30th. Street date is November 9th.
Below is the list of the new releases! Make sure to get your orders in right away. Let us know if you have any questions!
| | | | | | |
| --- | --- | --- | --- | --- | --- |
| Beer City | BCR185-1 | LP | THE ODD NUMBERS | About Time | 650557018515 |
| Beer City | BCR185-2 | CD | THE ODD NUMBERS | About Time | 650557018522 |
| Beer City | BCR206-1 | 2XLP | DEATHWISH | Rock N Rolls One Hell of a Drug | 650557020619 |
| Deep Six | DSR267-1 | LP | BASTARD NOISE / ACTUARY | "Human Horror Hymns /xperimental Thinking" | 685306026710 |
| Deep Six | DSR283-7 | 7″ | NEOLITHIC | Cult Of Ignorance | 685306028370 |
| Divebomb | DIVE171-2 | CD | DIRE PERIL | The Extraterrestrial Compendium | 711576017124 |
| Patac | PATAC037-1 | LP+7″ | FISTULA | "Longing For Infection: | |
| Rustbelt Remaster" | 641378758386 | | | | |
| Pig Baby | PBR008-1 | LP | DEADBOLT | Voodoo Trucker | 724101790416 |
| Pig Baby | PBR009-7 | 7″ | BLOODSHOT BILL | Keep Movin' On | 724101271618 |
| Pig Baby | PBR010-1 | LP | THE CREEPY CREEPS | 10 Bangin' Hits | 724101271915 |