Posted on December 2nd, 2014
'Records Collecting Dust' will begin a series of nationwide premieres this January, with screenings scheduled through the end of March. In a statement, film producer and Riot House founder Brian Jenkins said there was a conscious push to bring the film to venues outside of larger, more "established" cities.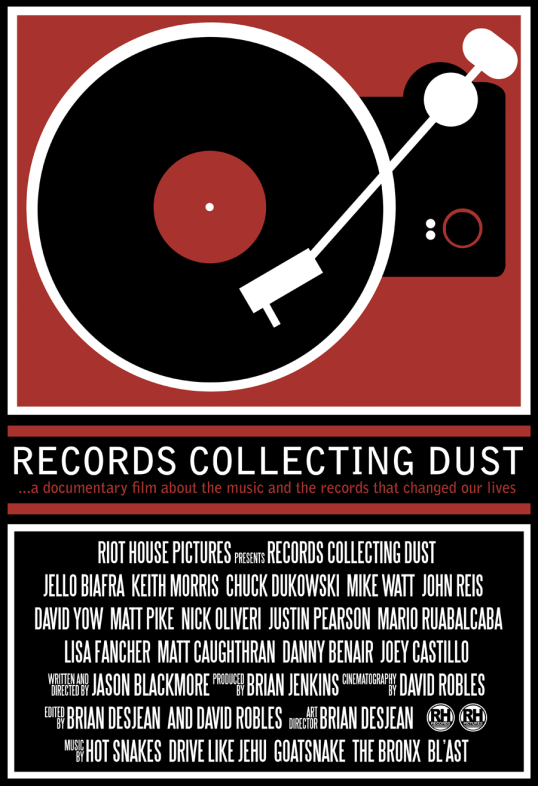 "Many indie films do a year of theater premieres on the film festival circuit and primarily play in major markets across the country," Jenkins said. "When I was brought on to this project, Jason and I agreed that we wouldn't alienate our audience and that we would do our best to make this film accessible to everyone. We've got premieres from Los Angeles to Grand Folks, ND scheduled. It's a film about punk rock records and we wanted to carry that ethic and approach through the filming, editing, and distribution of 'Records Collecting Dust'."
Consult the full schedule below, followed by the film's first trailer.
Records Collecting Dust 2015 Showtimes:
01/09 – San Diego, CA @ Digital Gym
01/10 – San Diego, CA @ Digital Gym
01/23 – Los Angeles, CA The Nerdist Showroom
01/27 – Oakland, CA @ The New Parkway Theater
01/29 – San Francisco, CA @ Balboa Theater
01/15 – Washington DC @ The Black Cat
02/04 – Gainesville, FL @ The Wooly
02/06 – Baton Rouge, LA @ Atomic Pop Shop
02/08 – Baltimore, MD @ Otto Bar
02/11 – Portland, OR @ Hollywood Theatre
02/13 – Grand Forks, ND @ Ojata Records
02/16 – Rockford, IL @ Nordlof Theater
02/19 – Durham, NC @ Motorco Music Hall
02/20 – Sioux Falls, SD @ Total Drag
02/21 – Phoenix, AZ @ Film Bar
02/27 – Richmond, VA @ Black Iris Gallery
02/28 – Santa Ana, CA @ The Frida Cinema
03/07 – Savannah, GA @ Graveface Records and Curiosities
03/08 – Bloomington, IN @ The Bishop
03/13 – Fort Wayne, IN @ Cinema Center
03/20 – Louisville, KY @ Modern Cult Records
03/27 – Birmingham, AL @ Bottletree Café
03/28 – Chicago, IL @ Reggie's Rock Club
03/28 – Bowling Green, KY @ The Public Theater of Kentucky