Posted on March 20th, 2018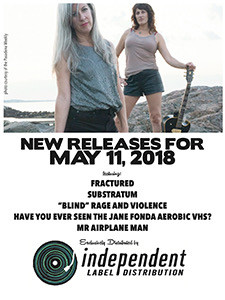 The May 2018 new release book is out and can be downloaded here. Ship date is May 1st. Street date is May 11th.
Below is the list of the new releases! Make sure to get your orders in right away. Let us know if you have any questions!
| | | | | | |
| --- | --- | --- | --- | --- | --- |
| LABEL | SKU | FORMAT | ARTIST | TITLE | UPC |
| Deep Six | DSR281-7 | 7″ | FRACTURED | Martrydod split with Neolithic | 685306028172 |
| Divebomb | DIVE167-2 | CD | SUBSTRATUM | Permission To Rock | 711576016721 |
| Divebomb | DIVE168-2 | CD | SUBSTRATUM | Stratosphere | 711576016820 |
| Pig Baby | PBR007-7 | 7″ EP | "BLIND" RAGE AND VIOLENCE | NO POLICE | 724101268472 |
| Sympathy | SFTRI796-7 | 7″ | "HAVE YOU EVER | From Finland With Love | 790276079779 |
| Sympathy " | SFTRI793-7 | 7″ | MR AIRPLANE MAN | I'm In Love / No Place To Go | 790276079373 |