Posted on February 1st, 2014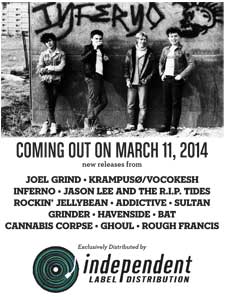 The March 2014 new release book is out and can be downloaded here.
Ship date is February 26th. Street date is March 11th so please get your pre- orders in. JOEL GRIND – The Yellowgoat Sessions LP is available for immediate shipment.
It's another strong month of new releases here at ILD……
We start off with Acid Rat's JOEL GRIND 'The Yellowgoat Sessions' LP. This is Joel of Toxic Holocaust fame here, people, and playing all the instruments on this release at that! This record is real metal and is reminiscent of early TOXIC HOLOCAUST..
From After Music we have another unusual LP offering 'KRAMPUSO/VOCOKESH–Split LP. This time with jazzy, improvised noise rock KRAMPUSO and the space rock offerings of VOCOKESH featuring Richard from space rock legends F/I. ..
Beer City brings us another classic hardcore reissue this time from Germany's early 80's hardcore pioneers INFERNO Pioneering Work: 56 Song Discography 2XCD ..
Two fine LP releases by Dionyus– the first being surf instrumental by JASON LEE AND THE R.I.P. TIDES and then a 12 band 12 track garage/surf comp LP reissue that was a very limited press in the early 90's entitled Rockin Jellybeans Jumpin Jukebox …
Divebomb is once again doing us proud by offering three reissues for this month! ADDICTIVE ' Kick 'Em Hard (Rebooted Edition)' 2XCD contains 28 tracks of Thrash metal , 80's Swiss metal outfits SULTAN–'Check & Mate (Deluxe Edition)' CD and then German early 90's thrash metal GRINDER–'Dead End (Deluxe Edition)' CD…
Innerstrength brings us the brand new effort of gritty hardcore metal outfit HAVENSIDE–'Living Our Darkest Days' LP and CD…
The members of the legendary DEATH will be proud of their sons as ROUGH FRANCIS' first LP Maximum Soul Power comes out on Riot House on LP and CD. Its a mix of 70's proto punk, Motown and hardcore to make a unique sound of their own… '
Tankcrimes annihilates us with a brand new release and two sought-after titles now back in print on LP. First up is the BAT – 'Primitive Age' CASS which is a metal punk pounding featuring Ryan Waste of MUNICIPAL WASTE and Felix Griffin of DRI. After a two year wait, CANNABIS CORPSE–Beneath Grow Lights Thou Shalt Rise death/metal onslaught is once again available on vinyl! Speaking of available on vinyl again: After being out of print in LP form since 2008 our favorite hooded cannibalistic thrash metal band from Creepsylvania GHOUL–Splatterthrash' LP is once again available!
That's it for this month new releases, folks. Make sure to get your pre-orders in and let us know if you have any questions.
March new releases titles list…….
Joel Grind-The Yellowgoat Sessions LP
Krampuso/Vocokesh-Split LP
Inferno-Pioneering Work: 56 Song Discography 2XCD
Jason Lee and the R.I.P. Tides-S/T LP
Various Artists– Rockin' Jellybean's Jumpin' Jukebox LP
Addictive-Kick 'Em Hard (Rebooted Edition) 2XCD
Sultan-Check & Mate (Deluxe Edition) CD
Grinder-Dead End (Deluxe Edition) CD
Havenside-Living Our Darkest Days LP and CD
Rough Francis-Maximum Soul Power LP and CD
Bat-Primitive Age CASS
Cannabis Corpse-Beneath Grow Lights Thou Shalt Rise LP
Ghoul-Splatterthrash LP