Posted on December 17th, 2013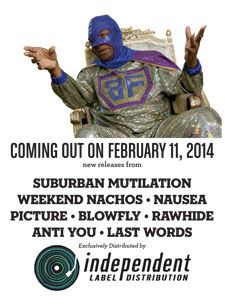 The February 2014 new release book is out and can be downloaded here.
Ship date is January 28th.Street date is February 11th so please get your pre orders in. 'Weekend Nachos' , 'Bastard Noise / Lack Of Interest – split ' , 'Last Words- Last Words LP' are available for immediate shipment.
New releases include these titles ……
Suburban Mutilation – The Opera Ain't Over Till the Fat Lady Sings! CD – Beer City
Weekend Nachos – Still LP – Deep Six
Nausea- Condemned to the System LP – Deep Six
Bastard Noise / Lack Of Interest – split LP/CD – Deep Six
Picture- Diamond Dreamer/Picture 1 CD – Divebomb
Picture- Eternal Dark/Heavy Metal Ears CD – Divebomb
Blowfly- Black In the Sack LP – Patac
Rawhide- Murder One LP – Patac
Anti You- Blank Stares LP – Six Weeks
Last Words- Last Words LP – To Live A Lie