Posted on March 28th, 2017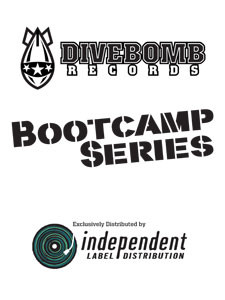 The Divebomb Bootcamp release book is out and can be downloaded here. All these titles are available for immediate shipping.
The Divebomb Bootcamp series was previously only sold on Divebombs mail-order. Due to its popularity and demand it is now being offered to stores as well.
Below is the list of the releases! Let us know if you have any questions!
| | | | | | |
| --- | --- | --- | --- | --- | --- |
| LABEL | SKU | FORMAT | ARTIST | TITLE | UPC |
| Divebomb | DIVE045-2 | CDEP | MANTA RAY | Visions of Towering Alchemy | 711576004520 |
| Divebomb | DIVE046-2 | 2xCD | INNER SANCTUM | Knowledge At Hand | 711576004629 |
| Divebomb | DIVE047-2 | CD | FIRSTRIKE | Deadly Voltage | 711576004728 |
| Divebomb | DIVE048-2 | CD | WEAPONS | Reflections Of A Troubled Mind | 711576004827 |
| Divebomb | DIVE049-2 | CD | MINISTERS OF ANGER | Renaissance | 711576004926 |
| Divebomb | DIVE053-2 | CD | ROENWOLFE | Neverwhere Dreamscape | 711576005329 |
| Divebomb | DIVE054-2 | CD | ERADIKATOR | Dystopia | 711576005428 |
| Divebomb | DIVE055-2 | CD | EVERTHRONE | Evil Tongues | 711576005527 |
| Divebomb | DIVE056-2 | CDEP | ELECTRIC AGE | Electric Age | 711576005626 |
| Divebomb | DIVE059-2 | CD | REIGN | Now & Forever | 711576005923 |
| Divebomb | DIVE060-2 | CD | SAVAGE CHOIR | Winter Of Probator | 711576006029 |
| Divebomb | DIVE061-2 | CD | GROSS REALITY | Overthrow | 711576006128 |
| Divebomb | DIVE062-2 | CD | THE HIDDEN | Fearful Symmetry | 711576006227 |
| Divebomb | DIVE063-2 | CD | ENFORCE | The Final Sign | 711576006326 |
| Divebomb | DIVE064-2 | CD | SUPERIOR | Moral Alliance | 711576006425 |
| Divebomb | DIVE068-2 | CD | AZRAEL | Television Slave | 711576006821 |
| Divebomb | DIVE069-2 | CD | EROTIKILL | Virgin Speed | 711576006920 |
| Divebomb | DIVE070-2 | CD | WITCH MEADOW | Cry Of The Wolf | 711576007026 |
| Divebomb | DIVE071-2 | 2xCD | ENERTIA | Victim Of Thought | 711576007125 |
| Divebomb | DIVE072-2 | CD | NIGHT IN GALES | Ashes & Ends | 711576007224 |
| Divebomb | DIVE088-2 | CD | THE HORDE OF TORMENT | Distorted Recollections | 711576008825 |
| Divebomb | DIVE089-2 | CD | OBSCENE JESTER | Citadel's On Fire | 711576008924 |
| Divebomb | DIVE096-2 | CD | HOLOSADE | A Circle Of Silent Screams | 711576009624 |
| Divebomb | DIVE097-2 | CD | AFTERMATH | Killing The Future | 711576009723 |
| Divebomb | DIVE100-2 | CD | HAVE MERCY/NAPALM/POWERMAD | Bootcamp Origins | 711576010026 |
| Divebomb | DIVE120-2 | CD | MINDS EYE | The Awakening | 711576012020 |
| Divebomb | DIVE121-2 | 2xCD | OBLIVION | Cyclogenesis: Songs For Armageddon | 711576012129 |
| Divebomb | DIVE122-2 | CD | VARIX | Morbid Tribute To Distortion | 711576012228 |
| Divebomb | DIVE123-2 | CD | FAITH COLLAPSING | Lost | 711576012327 |