Posted on June 18th, 2013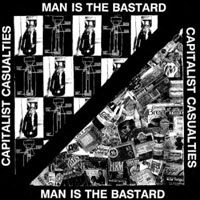 After being out of print for a very long time 'Capitalist Casualties/Man Is The Bastard-Split LP' on 'Six Weeks' is finally back in print. You can read all the details right here. This release is in stock now and available for immediate shipping.
Label: Six Weeks
Vendor sku: SW003.5-1
Format: LP
Band: Capitalist Casualties/Man Is The Bastard
title: Split
barcode:790168640315
SRLP: $14.98
Finally, the long awaited re-issue of a monumental release from two legendary power violence bands. Released in 1994 in a short run of 1,200 copies.Then released again in 2009 as another short run. This mighty piece of molten vinyl showcases two of the leaders of the power violence retaliation at the height of their songwriting powers. This release marked the debut of Andy Beattie (No Comment) on vocals for MITB and the band slays with political, unerring power. Capitalist Casualties lay down 13 tracks of unbreakable hardcore thrash, intense politics and seething disgust for humanity. After nearly 20 years since this release first came out, both bands decided it was time to get this back into print, completely true to the original release, highlighted by killer cut and paste art by Jeff Whiplash.