Posted on September 28th, 2016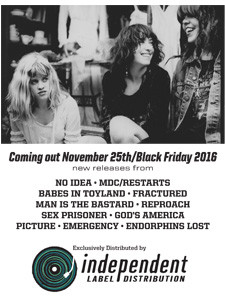 The Black Friday / November 2016 new release book is out and can be downloaded here. Ship date is October 25th. Street date is November 25th.
While the release day is Black Friday none of these titles are on the official 'list' , but there are some that are limited.
Below is the list of the new releases! Make sure to get your pre-orders in right away. Let us know if you have any questions!
| | | | | | |
| --- | --- | --- | --- | --- | --- |
| LABEL | SKU | FORMAT | ARTIST | TITLE | UPC |
| Beer City | BCR220-1 | LP | NO IDEA | Jag Hatar Punk | 650557022019 |
| Beer City | BCR221-1 | LP | M.D.C. / RESTARTS | Mobocracy | 650557022118 |
| Blank Recording Company | BRC021- 1 | 2XLP | BABES IN TOYLAND | Redeux | 221076002112 |
| Blank Recording Company | BRC021- 2 | CD | BABES IN TOYLAND | Redeux | 221076002129 |
| Deep Six | DSR244-7 | 7″ | FRACTURED | DELAPIDATED | 685306024471 |
| Deep Six | DSR201-1 | 10″ | MAN IS THE BASTARD | Anger and English –Deprogramming the Bigot | 685306020114 |
| Deep Six | DSR247-7 | 7″ | REPROACH | DESPAIR / SHITTOWN | 685306024778 |
| Deep Six | DSR248-1 | LP | SEX PRISONER | TANNHAUSER GATE | 685306024815 |
| Deep Six | DSR249-1 | LP | GOD'S AMERICA | Merge With The Infinite -Worthless In Death | 685306024914 |
| Divebomb | DIVE127-2 | CD | PICTURE | Traitor | 711576012723 |
| Divebomb | DIVE128-2 | CD | EMERGENCY | Martial Law | 711576012822 |
| Six Weeks | SW132-1 | LP | ENDORPHINS LOST | Choose Your Way | 790168013218 |