Posted on July 25th, 2022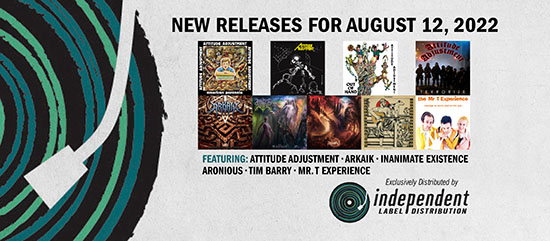 The August 2022 new release book is out and can be downloaded here. Street date is August 12th.
Below is the list of the new release(s)! Make sure to get your orders in right away. Let us know if you have any questions!
This month we have some great Attitude Adjustment releases on Beer City . Three great new Death Metal release on Artisian Era. A brand new Tim Barry LP from Chunksaah. Then a Mr. T Experience reissue from Sounds Rad!
| | | | | | |
| --- | --- | --- | --- | --- | --- |
| LABEL | SKU | FORMAT | ARTIST | TITLE | UPC |
| Beer City | BCR227-1 | LP | ATTITUDE ADJUSTMENT | American Paranoia – Millennium Edition | 650557022712 |
| Beer City | BCR228-1 | LP | ATTITUDE ADJUSTMENT | No More Mr. Nice Guy – Millennium Edition | 650557022811 |
| Beer City | BCR229-1 | LP | ATTITUDE ADJUSTMENT | Out Of Hand – Millennium Edition | 650557022910 |
| Beer City | BCR217-1 | LP | ATTITUDE ADJUSTMENT | Terrorize | 650557021715 |
| Beer City | BCR217-2 | CD | ATTITUDE ADJUSTMENT | Terrorize | 650557021722 |
| Artisan Era | AE051-1 | LP | ARKAIK | Labyrinth of Hungry Ghosts | 123184005118 |
| Artisan Era | AE053-1 | LP | INANIMATE EXISTENCE | The Masquerade | 123184005316 |
| Artisan Era | AE059-2 | CD | ARONIOUS | Irkalla | 123184005927 |
| Chunksaah | CAR074-1 | LP | TIM BARRY | Spring Hill | 809796007411 |
| Sounds Rad | RAD020-2 | CD | MR. T EXPERIENCE | Revenge is Sweet, And So Are You | 785249474842 |