Posted on January 22nd, 2014
The simple façade of Will Butler's Raleigh home does not betray the hardcore punk that foments just inside.
The 30-year-old Butler is an employee of N.C. State University, where he helps manage the school's digital security. He lives in this cozy, three-bedroom house just outside of downtown Raleigh with his girlfriend, Brittany, and their dog, Barnabas. The exterior is emblematic of the American Dream, with a wooden fence running the length of the lawn and a brick stoop leading the way upward to twin planters.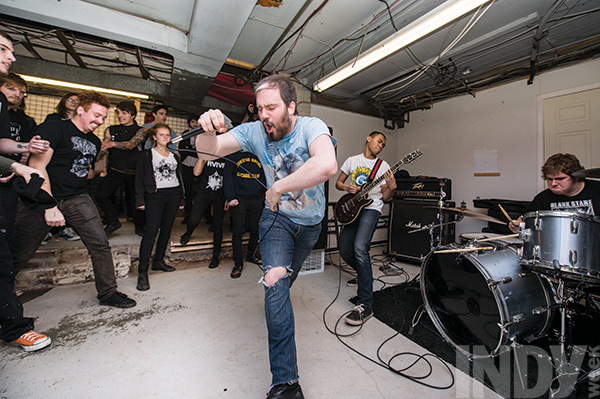 photo by Adam David Kissick
But the Jetta in the driveway sports several bumper stickers—one advertises the brutal band Charles Bronson, and another proudly proclaims "Vegan." That's the only hint that, inside, the dual upstairs bedrooms serve as the operational hub for To Live A Lie Records, a decade-old stronghold for the most extreme offshoots of hardcore punk. Since 2005, Butler has built a strong catalog of grindcore, powerviolence and fastcore—subgenres whose very names suggest the damage the music intends to do.
One bedroom overflows with stacks of boxes filled with records or their accompanying sleeves. Each package is assembled, by hand, when orders arrive. The catalog includes bands from as far away as Australia and Japan; the people ordering them are as far-flung. The other room serves as an office and a storage facility for titles that Butler helps sell from other like-minded labels, again based around the world.
This year, Butler will release To Live A Lie's 100th title, a 29-track survey featuring punk heavyweights like Weekend Nachos alongside relatively unknown locals such as Abuse. and the short-lived Mad Dog. Its strength, and the fact that a hobbyist label has survived to reach 100 albums, is a testament to the brand Butler has built and the care he has put into it.
To read the rest of the feature, please click here.