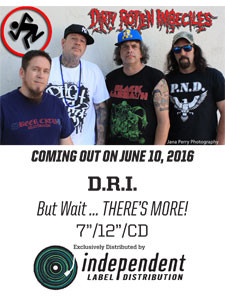 The D.R.I. – But Wait… THERE'S MORE! 7″/12″/ CD new release book is out and can be downloaded here. Ship date is May 31st (same day as the other June new releases). Street date is June 10th.
We did a separate new release book for this title due to the popularity of the band. As well as the fact you will be able to order all 7 of the different colors of vinyl individually.
Make sure to get your pre-orders in right away. Let us know if you have any questions!
| | | | | | |
| --- | --- | --- | --- | --- | --- |
| LABEL | SKU | FORMAT | ARTIST | TITLE | UPC |
| Beer City | BCR212-7 – T Red | 7″ | D.R.I. | But Wait … THERE'S MORE! – TRANSLUCENT RED VINYL | 650557021272 T Red |
| Beer City | BCR212-7 – T Blue | 7″ | D.R.I. | But Wait … THERE'S MORE! – TRANSLUCENT BLUE VINYL | 650557021272 T Blue |
| Beer City | BCR212-7 – T Gold | 7″ | D.R.I. | But Wait … THERE'S MORE! – TRANSLUCENT GOLD VINYL | 650557021272 T Gold |
| Beer City | BCR212-7 – T Green | 7″ | D.R.I. | But Wait … THERE'S MORE! – TRANSLUCENT GREEN VINYL | 650557021272 T Green |
| Beer City | BCR212-7 – Clear | 7″ | D.R.I. | But Wait … THERE'S MORE! – CLEAR VINYL | 650557021272 T Clear |
| Beer City | BCR212-7 – White | 7″ | D.R.I. | But Wait … THERE'S MORE! – WHITE VINYL | 650557021272 T White |
| Beer City | BCR212-7 – Black | 7″ | D.R.I. | But Wait … THERE'S MORE! – BLACK VINYL | 650557021272 T Black |
| Beer City | BCR212-1 | 12″ | D.R.I. | But Wait … THERE'S MORE! – HAND SILK SCREENED! | 650557021210 |
| Beer City | BCR212-2 | CD | D.R.I. | But Wait … THERE'S MORE! | 650557021227 |